by Tech. Sgt. David Speicher
175th Wing Public Affairs
2/10/2009 - BALTIMORE -- A time compliance technical order has brought several A-10 units here to Warfield Air National Guard Base.
Planes, pilots and maintenance crews from Air National Guard units at Fort Smith, Ark. and Battle Creek, Mich. along with active duty personnel from Moody Air Force Base, Ga. have been flying since October.
Wing cracks were discovered in some planes which caused all planes to be inspected.
According to Lt. Col. Tim Schuster, 175th deputy maintenance group commander, there are 127 A-10s throughout the Air Force grounded. Twelve of the effected aircraft are at Warfield Air National Guard Base.
"All the flyable iron from Fort Smith, Battle Creek and Baltimore are consolidated at Warfield Air National Guard Base," said Lt. Col. Patrick McAlister, 104th Fighter Squadron commander. "Consolidation, coupled with extra manpower from the respective bases has allowed us to build a bridge to a future date when the fleet is once again healthy."
This allows the pilots from all the bases to maintain currency with planes that were not affected. Not only are pilots flying missions from Warfield but they are also practicing using the new flight simulator here.
There is a team with personnel from other units to keep the planes flying. "We are augmented by other units. It is a coalition effort to produce the sorties," said Lt. Col. Dan Marino, 175th Operations Group Commander. The extra manpower made it possible to fly 194 sorties in the first two weeks in December.
According to Marino, "Maryland became the obvious choice because of its maintenance and operation expertise."
McAlister pointed out how members have stepped up for the extra workload. "Senior Master Nancy Smith has pilots from three different bases at any time. She is the gate keeper of keeping their records legal to fly. She catalogs all of their records which are treated differently at the base they normally fly."
Life support has also needed to maintain pilot's different equipment from different bases. Any equipment that passes through their shop must be looked over. With different flyers from different bases coming through every week there is a constant influx of different equipment to look over.
Source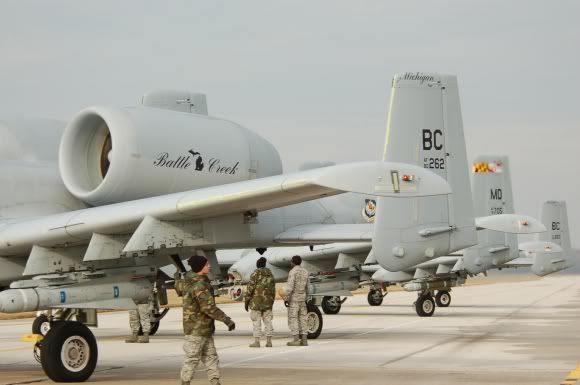 Airmen look over A-10Cs from Battle Creek and Baltimore before launching them on a mission at Warfield Air National Guard Base on December 17th, 2008. Visible from left to right are: 80-0262 (172th Fighter Squadron), 78-0705 (131st Fighter Squadron) and 80-0263 (172th Fighter Squadron). (U.S. Air Force photo by Tech. Sgt. David Speicher)
Hi-res